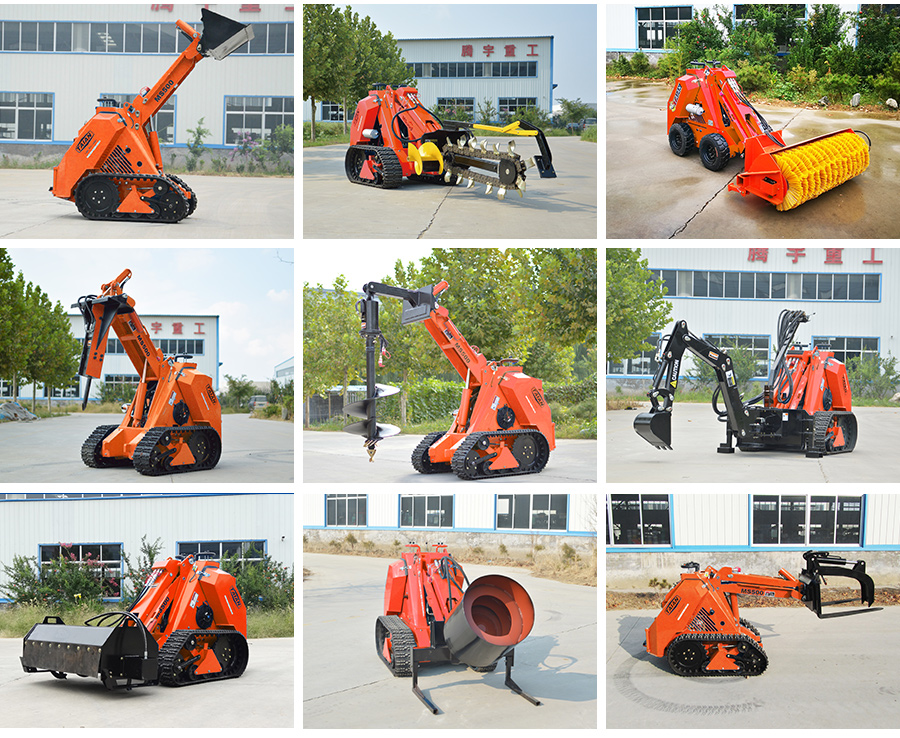 TAIAN MS500 Mini Track Loader gives you the power to tackle big jobs in close quarters with impressive traction andlifting abilities. It turns quickly in its tracks, and treads lightly over soft ground and lawns. With a big range of attachments, it gives you endless work-saving opportunities. Used by itself or in combination with bigger loaders, this mini track loader is a maxi work-saver.
Applications:
The skid steer MS500 turns on the spot and is therefore very useful in tight situations where space is limited. Thanks to the robust and uncomplicated design, MS500 is a very strong machine and also an economical choice for jobs where a skid steer loader is at its best: on hard surfaces. For soft grounds and paved areas the articulated MS500 models are a better choice.
MS500 is especially popular among farmers. Silage distribution, manure removal and sweeping are the most common jobs on the farm. On construction sites MS500 is an excellent machine for various refurbishing works inside buildings. It is very efficient with the MS500 hydraulic breaker. Also the compact dimensions and low unladen weight of MS500 series are benefits when working inside old buildings.
Steering of MS500 is very precise. It takes some time to learn to drive a skid steer machine, but once you have learned it driving goes as smoothly as driving a bicycle.
Engine Options:


PAREMETER:
MS500 Technical Specifications.docx